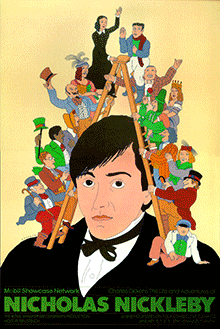 GRAPHICS COLLECTION
Seymour Chwast's "Graphics Collection" set of 15 posters, 1987.
From Seymour Chwast's personal archive.
Mohawk "Graphics Collection" Poster series (15 posters) Pushpin, Inc. & Mohawk Paper Mills
Set of 15 mini-posters, illustrated by Seymour Chwast for a 1987 promotion with Mohawk Papers introducing their Nuance and Ultrafelt paper lines. Offset printed in full color, replicating posters Chwast designed in the 1970s and 80s for various clients. Comes in a die-cut folder with wrapper band, and inserted into a custom envelope. Includes a blow-in flyer of production notes.
Posters included:
"I, Claudius" for Mobil Oil, 1976
"The Butcher" for Nouvelle Observateur, 1980
"Carta di Pasta" for Pushpin Lubalin Peckolick, 1981
"Ink Tank" for The Ink Tank, 1981
"Writer's Guide" for New York City Department of Cultural Affairs, 1981
"Nicholas Nickelby" for Mobil Oil, 1982
"Fun and Fantasy" for Museum of the Borough of Brooklyn, 1984
"Happy Birthday Bach" for Dolphin/Doubleday Books, 1984
"June" for PM Typographers, 1984
"Forbes Fuels Your Drive" for Forbes Magazine, 1985
"From Brooklyn to the Sea" for Museum of the Borough of Brooklyn, 1985
"Seymour Chwast Retrospective" for The Cooper Union, 1986
"War Is Madness" for The Shoshin Society, 1986
"Star Quality" for Mobil Oil, 1987
"The Grand Game of Baseball" for Museum of the Borough of Brooklyn, 1987
Size: 11" x 16.5" each, except "From Brooklyn to the Sea" which is a double sized fold-out